Concrete Services
South Florida architecture incorporates poured concrete. Simple applications include sidewalks and driveways. More complex jobs including walls, ceilings and steel reinforced columns. Concrete is an amazing material. It has a tenacious bond with steel. Concrete is made using the 123 formula. One part Portland Cement, two part sand and three parts gravel. Then its all mixed with water.
Just want someone to come give a FREE Estimate ? Form Here
CONCRETE ADD MIXTURES
In some cases we use fibers to replace the steel. Additives change the properties of concrete. They can speed up or slow down the cure time.
Concrete Sidewalks
Most communities is South Florida have sidewalks. They are 36" wide and in the front yard swale. The sidewalk does not belong to the home owner but he is responsible for its upkeep. That is keeping it clean. Over time sidewalks can experience some damage.  Usually in the form of cracks. Sometime tree roots push them up. This kind of damage is easily repaired.
CONCRETE DRIVEWAYS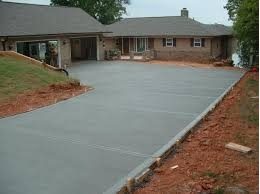 Concrete driveways offer several benefits over asphalt driveways. This is particularly true  in Southern Florida. The lighter color material stays cooler in intense sunlight.  It looks better against lighter-colored homes and businesses. Concrete is more resistant to the weather and the formation of potholes.
Concrete driveways perform better than paver stones.   Pavers are laid over concrete  perform much better. Paver stones on sand will always sink and require periodic adjusting. The worst thing about pavers is the non stop irritating weed growth. If you plan on getting a paver deck, make sure your ready to buy plenty of Roundup to keep the weeds at bay.
Concrete Patio's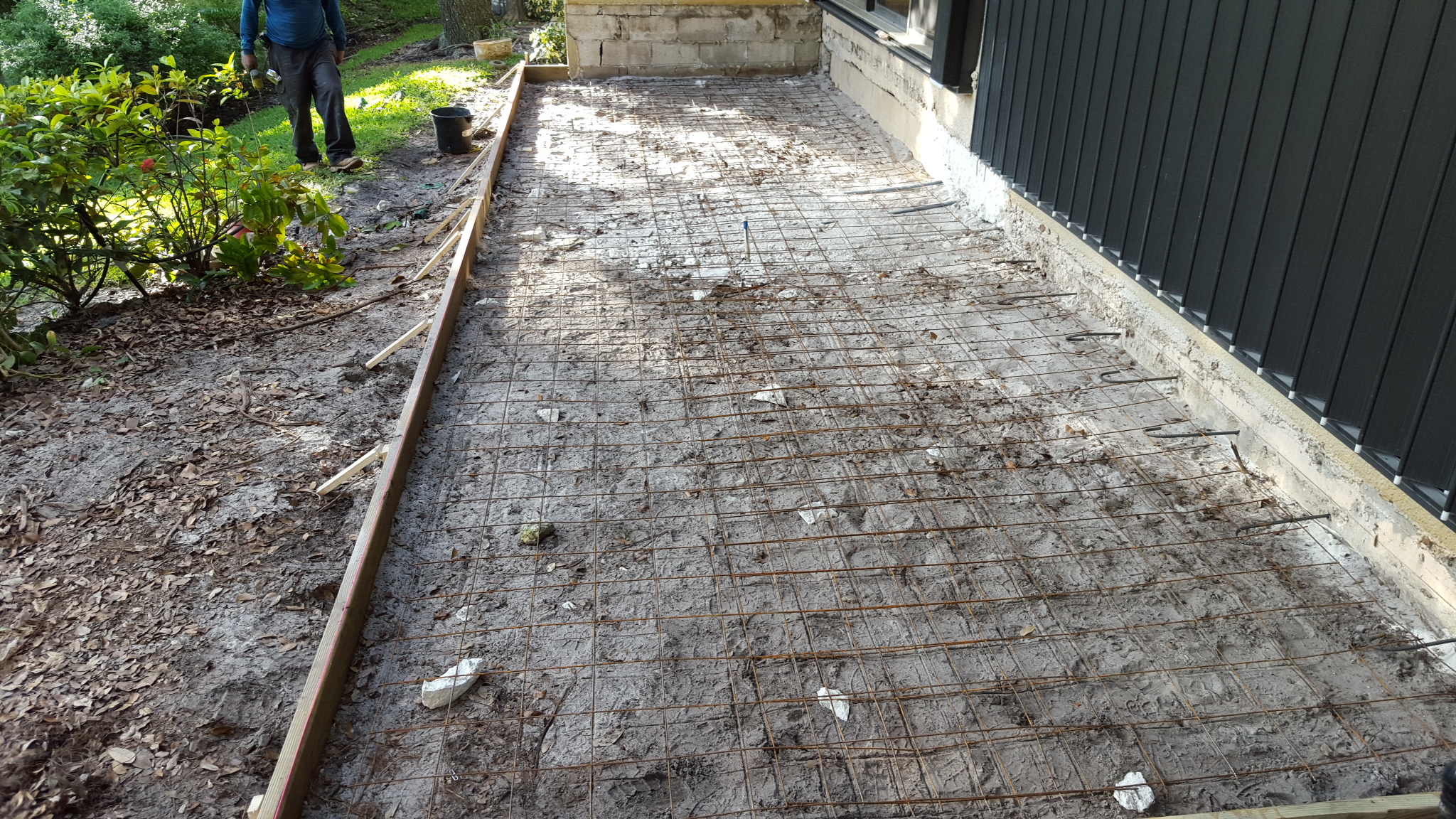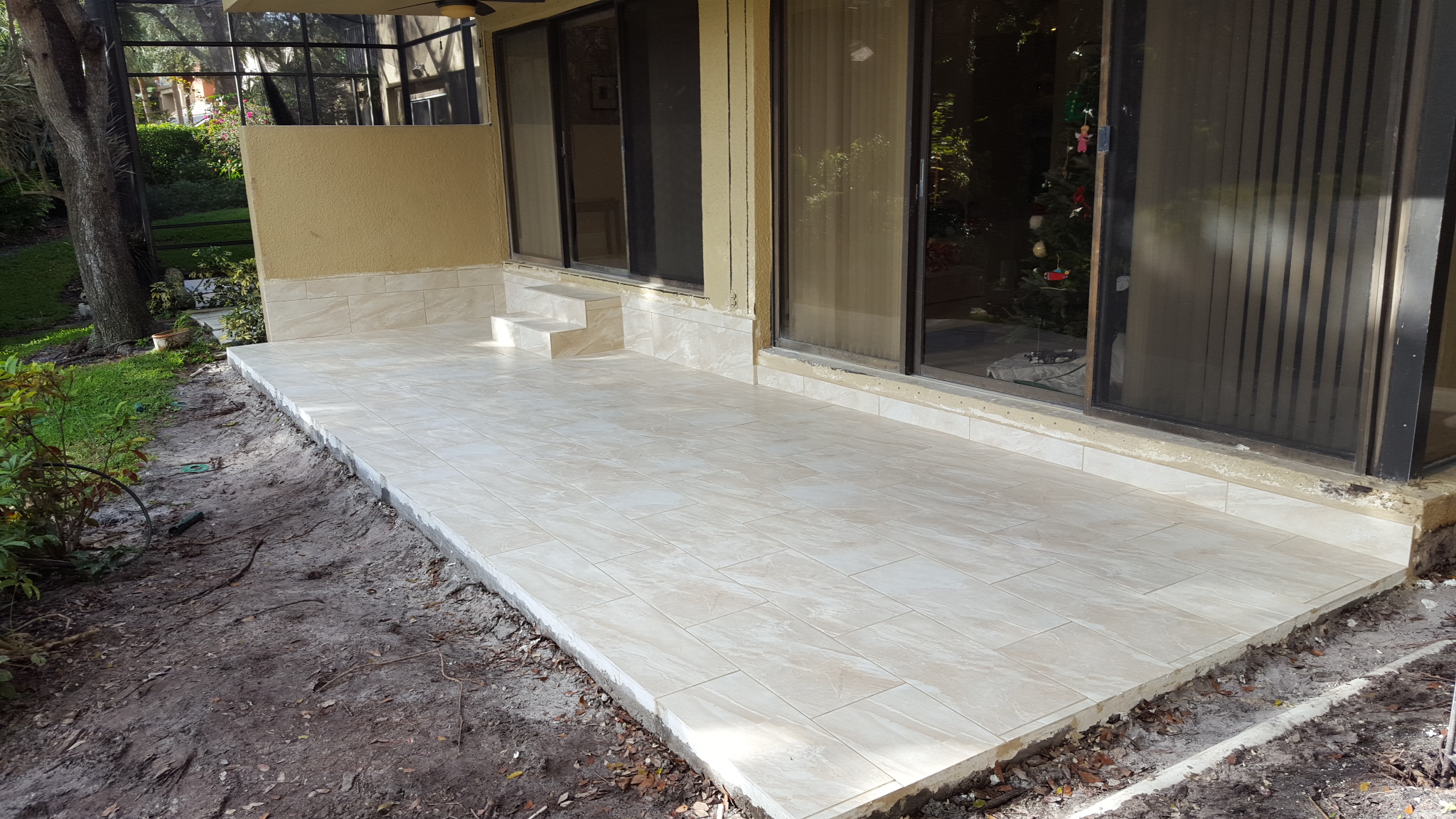 Concrete patios are superior to paver stones. Pavers move over time; they also tend to grow weeds in the cracks. It can be annoying to spray round-up every couple of weeks. Aesthetics can be an issue with broom swept concrete. Its not necessarily attractive and tend to collect dirt. Applying a knock-down texture and stain fixes that. Check out our webpage on concrete textures for more ideas here.
When adding new concrete patios to a house the new slab must be 4" below the finished floor height within the home. This is to prevent water from flowing back into the house. They are also supposed to be 4" above grade and sloped to a grade of 10% , allowing water to flow off of them. The building department is a little lest strict on the second condition depending on site conditions.
Concrete patios are generally 4" thick and contain welded steel wire mesh. Concrete fibers can be added to the mix as a substitute for the wire. If the new pad is not carrying the load of a wall 4" of concrete is good. If your adding a roof and creating a lanai, the column holding the roof will need additional footings to carry the weight. A footing is simple a block of concrete about 2' x 2' x 12" and resides below the 4" slab.
Concrete slabs that will have walls constructed on them need a footer to hold the weight. A footer is a continuous trench with re-enforcing steel at the perimeter of the deck. Today's footers are bigger and usually 24" x 18" with three #5 steel bars.
Concrete Contractor
Just want someone to come measure and give a FREE Estimate ? Form Here
or CALL NOW 561-586-5655
Concrete is a magical building material that makes modern life possible. It is unique. There is no burning or rusting. It's heavy and will be around for a long time. Concrete starts as a thick plastic liquid. Molds turn it into many useful shapes.
How to make Concrete
The recipe is simple. Starting with Portland cement, gravel, sand and water. Portland cement is limestone baked into submission at 3000 degrees. A common concrete ratio is one part Portland cement, two parts sand and three parts gravel. Enough water for curing or about 5 gallons per 100lbs cement. We hand mix, machine mix or purchase our concrete in truck loads. A pump may be needed to get truck loads of cement into place on your property.
Hydration, the process of concrete curing
The cure process for concrete is a chemical one. That is to say, concrete does not dry. Water is not a transfer agent. The water does not evaporate and leave the concrete like water in paint. The reaction between Portland cement is referred to as "hydration". It is an exothermic chemical reaction and gives off heat. The final weight of the concrete is roughly equal to the sum of the four ingredients. There is not much waist.
Concrete Additives
There are many additives for concrete mixtures. They improve performance like:
Slowing down cure time
Speeding up cure time
Reducing shrinkage
Fiberglass "fibers" can increase its strength
And may more….
Concrete is super durable. But the combination of steel reinforcement and concrete is tenacious. There is more steel in concrete than you might expect.
Professional Concrete Services
Preventative Maintenance Support Services Company are experts on concrete pin pile installation for residential and commercial projects in South Florida.Our professional concrete services help your home or business withstand the extreme weather it faces in South Florida. Preventative Maintenance offers professional concrete services in Palm Beach, West Palm Beach, Boca Raton and surrounding communities. We are licensed and insured, use superior quality materials and offer an extended warranty on all of our concrete services.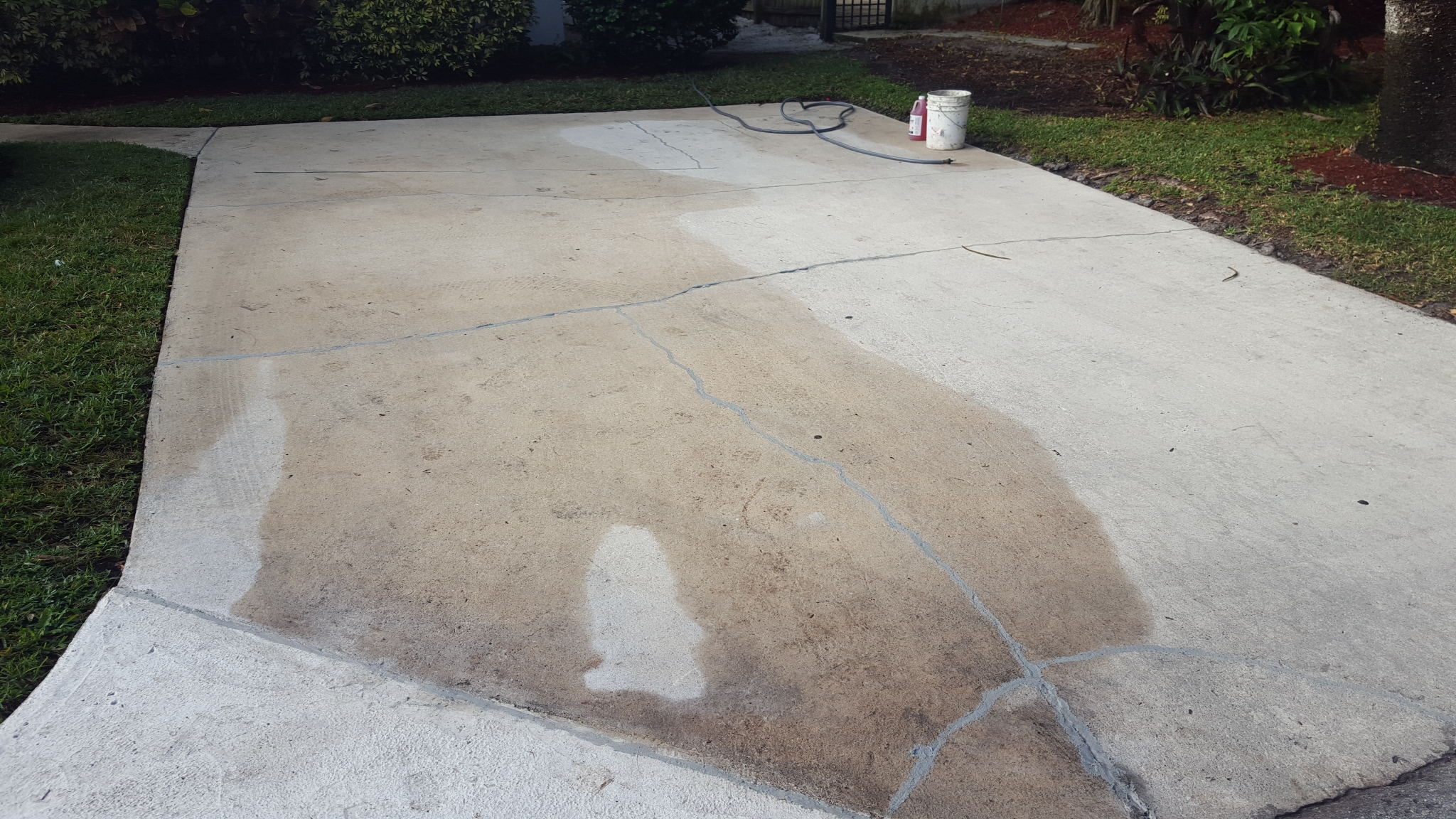 Driveway Repair
We can take an old concrete driveway, repair it, texture is and make it look like new again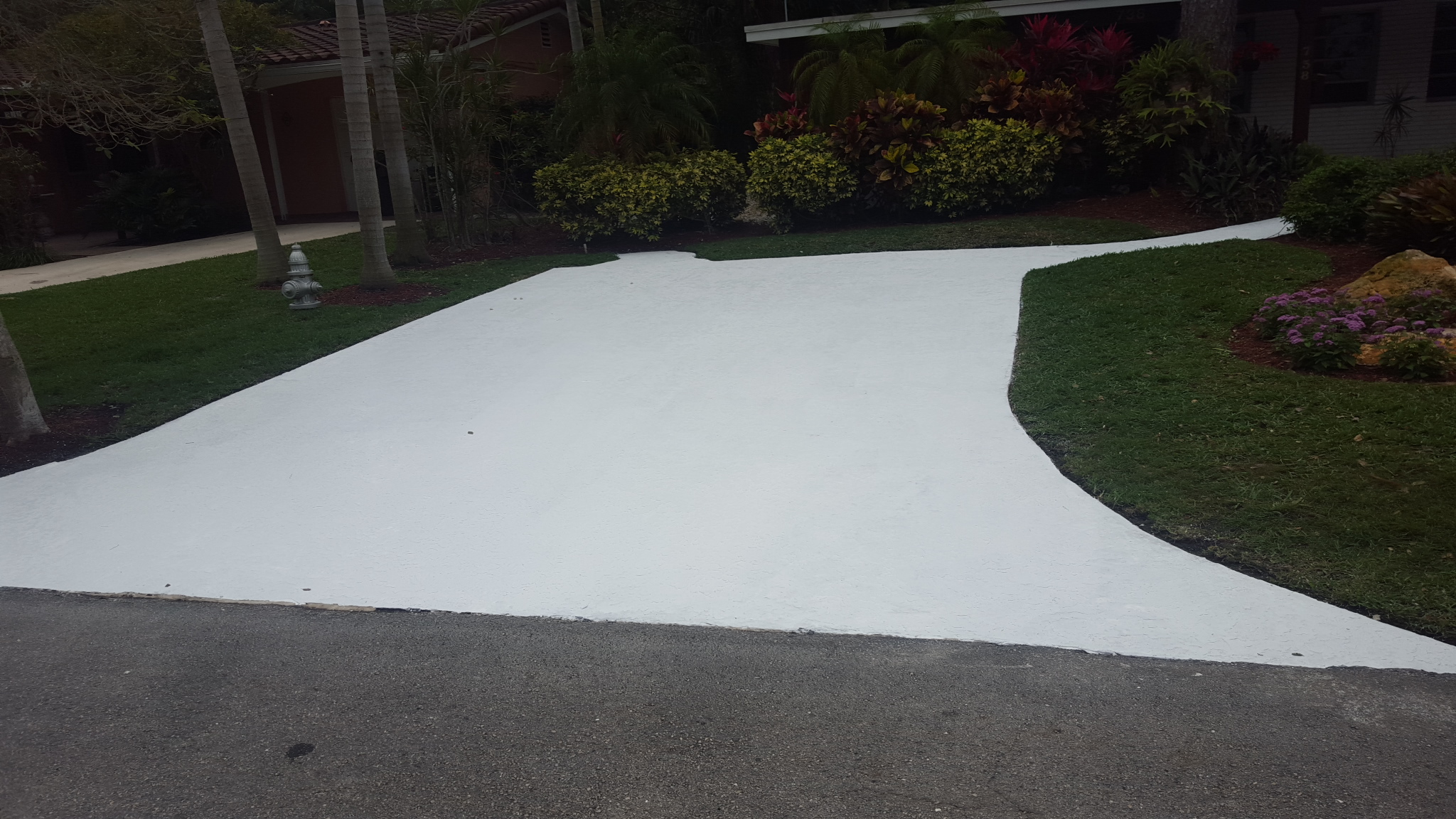 Handicap Ramps
The Florida Building Code requires compliance with the American Disabilities Act or ADA. ramp specifications must be followed strictly. Handicap ramps must be at least 36" wide. They must be of firm surface. And the slope can be no greater than 1" in 12".