Lanais and Covered Patios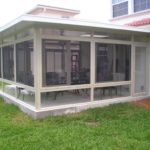 A Lanai and covered patio are the same thing. They are comprised of a deck and roof. The decks are usually concrete, wood or pavers. Some have screens, some don't. These enclosures are furnished with tables and chairs. A television is a nice feature. You'll get more use from a lanai that faces North. Less direct sun will enter. In general, these structures are attached to the house. The floor is lower than the finished floor of the house.
There are two construction types of lanai's, aluminum and conventional. Aluminum enclosures have aluminum posts and roofs. Some roofs are insulated. Polystyrene is sandwiched between two aluminum sheets. The panels have tong and grove edges. Each panel is 4' wide. They fit tightly together to form a uniform roof surface.
Convention covered patio's have steel posts and wood framed roofs. Their floors are also below the finished floor height of the home. The roofs are asphalt or modified-asphalt.
Acrylic Windows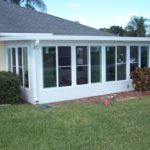 Both aluminum enclosures and conventional enclosures can be fitted with windows. Conventional glass windows or low-cost acrylic windows will work. Acrylic windows are basically Plexiglass windows. They look great. These windows come in white or bronze frames. The glass can be clear or tinted. And screens are available.
Drywall or cement board can be used to finish the inside of a conventional enclosure. This hides the acrylic windows frames. Frames are exposed in an aluminum structure.
Conventional windows can be impact rated. Acrylic windows cannot. They are rated for window up to 70 miles per hour. And need to be removed and stored for high wind events. Although this author in unaware of anybody that does.
Construction of Lanai Enclosure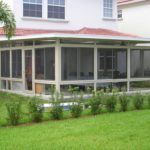 Construction for covered patios requires engineering and permits. Obtaining these will take 4 to 6 weeks. Construction will take about a week. More complicated designs will take longer.
Why do I need a permit?
You need building permits to do just about anything on your house. This is especially true for things on the outside of your home. Exterior features are subject to high winds in South Florida. Just about every building in Palm Beach County has to be designed to resist wind up to 180 mile per hour. This includes your new lanai or covered porch. Its to make sure the new structure doesn't end up breaking the windows on your neighbors homes.
That aside. What is the argument why you should not get a permit. They don't cost that much. A professional reviews and approved the plans. Another professional comes out and inspects it to make sure it's built right. When its finished you get a final inspection to prove you got what you paid for. There is nothing wrong with any of that. Getting a permit is always a good idea. Don't use anybody that tells you different.
Can I build a lanai here (in my yard)?
Chances are good you can have a new lanai in your back yard. There are restrictions as to how close to your property line you an build. That's referred to as the setback. You typically can't build within 5 feet of the sides and 7 feet to the rear of your property.
Your HOA may have something to say about it. Make sure you check with them for approval. Some associations are "hard nosed". They take exception to just about anything done without their permission. Its always better to ask first.
How long does a screen enclosure project take?
Years ago I could submit a drawing and plans to the building department. If it met the requirements, I would get permit. Those days are long gone. Just about everything needs signed and sealed plans from a design professional. That would be from a structural engineer or architect. The plans don't cost that much anyways. So why not get them. Just like getting a permit, plans are a good thing. Just have your contractor get them and be happy everything is going to be perfect.
The request for your plans are submitted to the design professional and they go on the bottom of the stack. They are finished and delivered when they make their way to the top. That's all dependent on how busy the company is. It take two or three weeks usually for small plans like these. We are not designing a hole house here.
With new pans in hand we can apply for the permit. The process is the same as above. Submit the permit package and wait. There can be unexpected delays if plans review wants corrections or changes. But, on average it will probably be another two or three weeks.
With the permit in hand we are ready to start, right. Nope, not just yet. Your contractor will have to finish whatever work he has on hand. Then he can start. That's should be another week or so.
A good guess for starting is four to six weeks. How long to finish? Most lanai project can be completed in a week