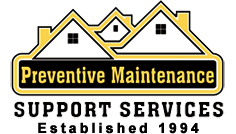 Roofing

Roofing Services
New Roofs
Roof Repairs
Fascia Repair
Skylights
Home Improvement Contractors & Commercial Maintenance Contractors including Roof Repair
Roof Repairs - Stucco Repairs - Impact Windows - Home Additions - Structural Repairs
Welcome to Preventive Maintenance Support Services Company. We Home Improvement Contractors are the best choice you will ever make for your home or commercial property. Looking for new windows, roofing repairs or replace, stucco or new addition? You have come to the right place! With PMSS, you're on the path to a beautiful home or office. And, our prices are fair. Our workmanship is perfect.
Using the menus above, you can find information that your looking for. If you have trouble please call our office 561-586-5655.
Your property is the most important investment you'll ever make. You need a company that has been making property owners happy since 1994. PMSS reputation for quality work is terrific. We have fantastic pricing, and excellent customer service. You will be super happy you called us.
Roofing Services
We proudly offer professional residential and commercial roofing services, of all kinds, in the Boca Raton area. If your looking for a roof repair or need a new roof, your in the right place.
Lanai's - Sunrooms - Home Additions
Our design / build team will help you create new living space for your family. Whether it be a simple screen room or full new addition, our general contracting crews build quality room additions.
Replacement Windows
Boca Raton's best impact window contractor. Replacement window contractor Serving the Palm Beach county area.
Kitchen Remodeling
We are licenced contractors CBC 1257846. This is really important! We are not just a cabinet shop. This means we we are authorized by your permitting authority to do this work. It also means our employees are covered by workman's compensation insurance and, we carry general liability insurance. And thirdly, we can move walls, install windows, add a skylight, move appliances and any other kitchen configuration modification that you can think of. Protect yourself, hire a licenced general contractor!
Repair a Stucco Wall
Always hire a licensed stucco contractors for repairs. The wire lath in stucco rusts when water penetrates cracks of your exterior walls and columns. Cracks grow bigger in the absence of prevention. Deterioration grows exponentially. The cracks get larger and soon the wall swells and stucco starts falling off. Spalling is the name for this. It is sever deterioration and interior damage is imminent. Spalled stucco allows even more water inside. Rotting of the buildings wood framing.
Going above and beyond our customers' expectations is our first priority. We anticipate their wants and needs. We follow through with spectacular service. We consider ourselves and you a family at PMSS. Our "Customers First" and "Get It Done" philosophies makes buying from us the smartest choice for property improvement.
Call us today and we will help you select the right solution. Our factory-trained experts will install them, and save you a boatload of cash! PMSS offers the highest quality windows, roofing and building. We will save you money. Please call for your appointment to be convenient to your schedule.
We stand behind our work. In the unlikely event that anything goes wrong, we will fix it right away. PMSS makes sure your most important investment, has our Standard of Excellence.
Call your licensed repair experts at (561) 586-5655 for Free Online Estimates and discounts on your first repair!
We Accept