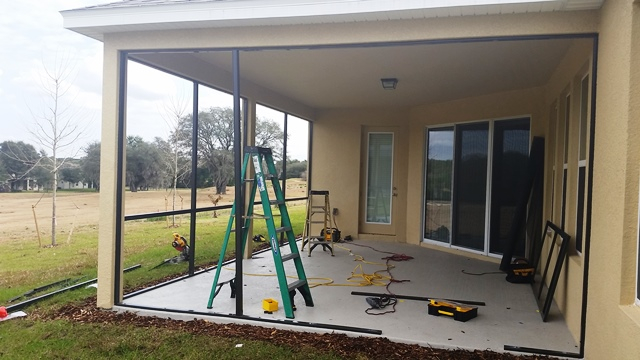 A lanai is a type of roofed, open-sided veranda, patio or porch with the name originating in Hawaii. Many homes, apartment buildings, hotels and restaurants in Hawaii are built with one or more lanais.
Call 561-586-5655 now or fill out the form HERE -> for a FREE estimate
Lanai porches take their name from the Hawaiian island of Lanai, of which the design is said to have originated. Lanais are generally considered screened-in. Most often it's used to describe an enclosed porch with a concrete or stone floor. Lanais are slightly different from sun-rooms because most have concrete floors and are situated on the ground adjacent to the home.
Lanai is an outdoor living spaces. Lanai porches are characterized by their screen or acrylic window enclosures. They have a roof and may have many amenities like furniture or even an outdoor kitchen but the screened partitions are its defining character. Of course, in some designs, the windows are removable making classification even more challenging.
How Much Does a Lanai Cost to Build?
Building a lanai is less costly than adding on a large sun-room to your home. Lanais also offer more protection than a traditional porch because they usually feature screens or windows. If you already have a roof and floor the screen enclosure will average about $1750.00. To install a lanai screen enclosure and roof will cost $20.00 per square foot, approximately. So, a 12' x 20' area will cost +/- something less that $5,000.00, but this depends on if you already have a floor or not.
A screened in lanai, in Florida, is considered a category I sun-room.
More About Sun-rooms and Lanai's here
OR Contact Us
Luxury Lanai Enclosures
They give homeowners that coveted indoor/outdoor living feeling and are typically used for three seasons. Many are furnished with comfortable outdoor-style furniture to make them feel like a second living area.
When installing a lanai screen, there are some considerations that needed to take account. Firstly, you need to consider the climate. Lanais usually can be found in the warmer climates. and roof  isn't to say that it wouldn't be feasible to have a lanai if you lived in a cold climate, but there would have to be a few modifications for it to function well.
Traditionally, some lanais are completely glass enclosures. If you live in a climate where there is a lot of snow each year, you'd have to work with a professional contractor to ensure that your lanai could support the weight of the weather. It would need to be completely structurally sound in order to be a safe and comfortable place for your family to spend time.
Secondly, vital consideration is the water levels in your yard. When it rains, does your backyard become flooded? If so, it may not be a good idea to build a lanai. Because lanais are usually situated on the ground, similar to patios, the risk of flooding is high. In this case, it may be better to consider a traditional raised deck or porch.
Lanais may conjure up images of relaxing tropical paradises, but they are not exclusively for homes in warmer climates. While they are a popular feature in homes located in warmer climates, they can also be added on in climates where the weather is not as mild. All it takes is a few simple modifications to create your very own oasis at your home.