Texturing a Concrete Driveway
Mr G hired us to make his old concrete driveway look like new. Portions of the concrete slab where beyond repair. Step number one was to jackhammer, saw cut and remove the old concrete. We saved as much of the driveway as we could. To help keep the cost down.
Mixing Concrete
Reinforcing steel is epoxy doweled in to adjacent concrete. Preventing cracks from developing where new and old concrete meet. Mr. G wanted white concrete for a replacement sidewalks and we mixed white Portland cement sand a aggregate using the  1-2-3 recipe. That concrete recipe is That is 1 part cement, 2 parts sand, 3 parts gravel, and 0.5 part water. The is formed, mixed, pour and finished.
Concrete Reinforcement
Next, we epoxy injected cracks in the old concrete driveway. Some cracks where saw cut and cleaned prior to the epoxy injection. The new concrete cured and all of the repairs completed. The entire driveway receives a skim coated with concrete slurry. Creating a uniform appearance.
Knock Down Texture on Driveway
We applied concrete slurry using a hopper gun and knocked it down for the desired texture. our crew wears spiked shoes so they don't leave footprints in the newly applied concrete slurry texture.
The following day two coats of bright white stain and two coats of clear sealer were applied. The finished job is stunning and everyone in the neighborhood applauded the work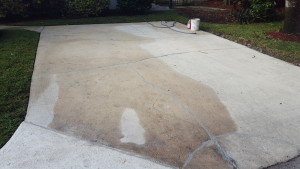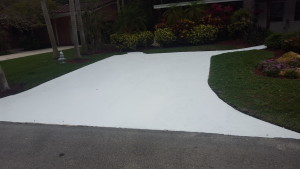 If your old concrete driveway is cracked and broken and is just ugly to look at. Call Preventive Maintenance Support Services today 561-586-5655. We can restore any concrete driveway