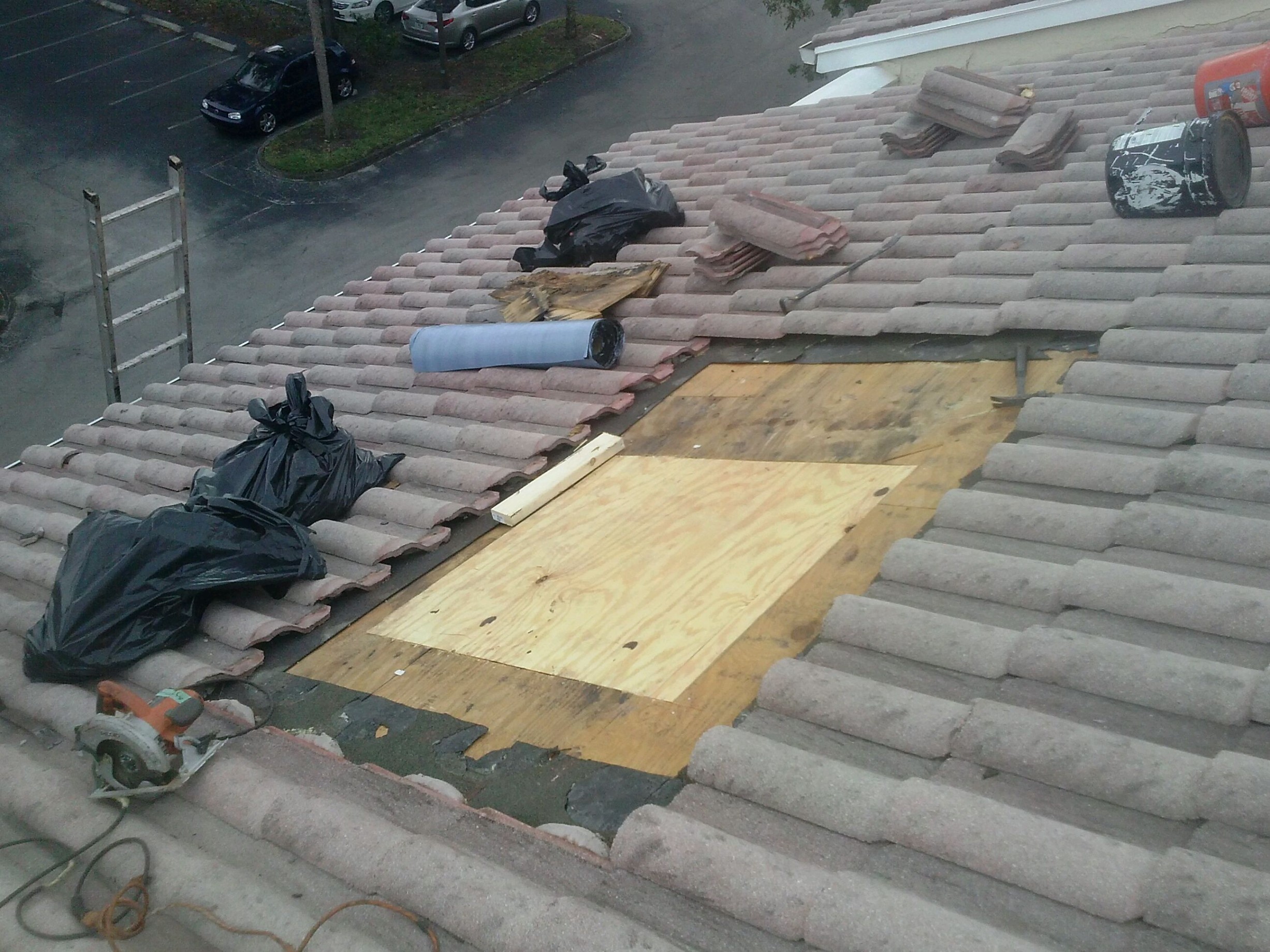 Commercial and Residential Roof Repair in Boca Raton, FL
Preventive Maintenance is a licensed and insured company. We are licensed to work anywhere in Florida. But, our operations are limited to Boca Raton and the surrounding areas. We repair all types of commercial and residential roofing including tile, shingle, metal and flat roofing.
Our goal is to fix roofs using the best industry standards. By making a detailed assessment for the source of the damage. And providing top quality workmanship. We will stop your leaking roof on the first try guarantied and our repair will mitigate the risk of future problems.
Read more about should you repair or replace your roof?
Always hire a licensed Roofing Contractor
Contact us
Tile Roof Repair
Sun rays, intense heat and harsh weather in South Florida is punishing to your roof. Despite this, your tile roof could last up to 50 years. So the contractor you select to fix a leak is critical. A profession tile roof repair is a must. But, some contractors don't supervise their work. They may even use unlicensed sub-crews.
Your tile roof is not going to make 50 years with a repair like that. Don't accept a patch. They cost less, but the leak will return. We won't do that! Our crews make proper repairs on the first try. And we make sure with full time supervision.
Tile roof repairs are a bit unique
That's because concrete roof tiles are installed on top of the underlayment. "Underlayment" is just another name for the tar paper installed before the roof tiles are installed. The Florida Building calls the "roof underlayment" a "secondary water barrier". So what does that mean? In a perfect world rain would shed across the top of the cement roof tiles. It would never fall through a crack or gap and run over the paper below. Well guess what? It does. In fact, it does a lot. Hence, the need for a secondary water barrier.
Securing the tiles
Most roof tiles use two nails, threw the underlayment, and into the plywood deck to hold them down. Water traveling over the tar paper causes the nails to rust. This is the most common cause for tile roof leaks. Why install cement roof tiles this way then? Because its less expensive than other roof tile instillation methods.
We remove tiles during a repair, so we can replace the damaged tar paper and plywood. Then we re-install the tiles using mastic not nails. This to make sure the problem does not return. Ask for pictures of the new plywood and underlayment, its important.
Find out how much your tile roof repair should cost.
Call for a quote today (561) 586-5655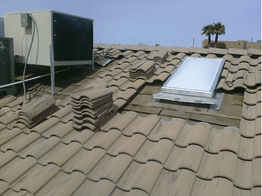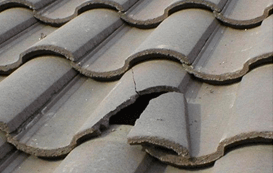 Shingle Roof Repair
Shingle roofs are very popular in Florida. Most roof leaks in shingle systems develop around roof penetrations like skylights of plumbing stacks. Additionally, nails backing up can cause roof leaks. Small leaks like these persist for a long time before you notice them. Regrettably this means there will be some rotten wood to replace.
Repairs involve removing the shingles and tar paper in the affected area. Demolition stops
when there is clean and dry wood. All rotten wood gets replaced with new. The repair is complete with new paper and shingles. Most shingle roof repairs will cost around $850.00.
Call for a quote today (561) 586-5655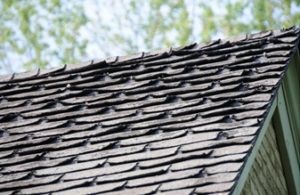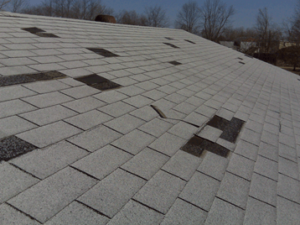 Flat Roof Repair
Many commercial properties like warehouses and large retail stores have flat roofs. Most homes in Florida have flat roofs on a back porch patio. Flat roofs can develop problems over time. We provide flat roof repair throughout the Boca Raton and surrounding area. These repairs can be a little complicated, especially if there is rotten wood. A repair will take a three man crew a full day.
Hot Asphalt Repairs
We make flat roofs with asphalt, for the most part. Many contractors use cold process or torch for repairs. We believe there is no better repair than a conventional hot asphalt repair. It's our experience that anything other than good old fashion hot tar repair falls short.
As with all repairs the damaged roofing materials get replaced. Our crews take off as much old roof as needed until they no longer see rotten or water stained wood. New roofing materials applied in layers, each layer placed in hot asphalt.
We guarantee that our flat roof repair will stop your leak on the first visit. It will also increase the life expectancy of the roofing system.
Single-ply Roof Repairs
If you have a TPO or PVC roof we use some techniques to ensure a long-lasting repair.
1. Identify the plastic modifier in your roofing system. Single ply materials are not all compatible. Using TPO on PVC might work initially, but eventually the patch will fail.
2. Single ply roofs are fantastic, but they weather over time like all other systems. Each year a tiny layer of the material weathers away and the surface becomes difficult to weld and patch. But the underside is comparatively virgin. So we weld our single-ply patches to the underside of your roofing system.
Call for a quote today (561) 586-5655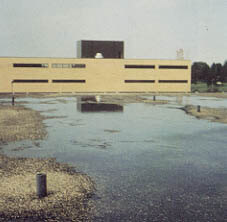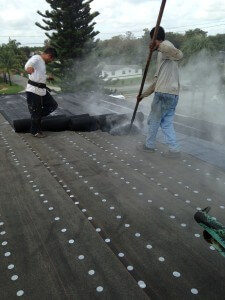 Commercial Roof Repair
Commercial property owners have to treat their roofs as the first line of defense against property damage. This means that roofs need maintenance on a regular basis. Repairs be of quality materials, workmanship of the best industry standards. Commercial roof repairs are a specialized trade. On this page we discussed different commercial roofing systems and maintenance needs.
Our Boca Raton based contractors are dedicated to meet all of your commercial roofing needs. From repairs and maintenance to complete re-roofing. Our crews are highly trained in all types of commercial roofing. We are the right people to call if you are in need of a commercial roof repair.
Call for a quote today (561) 586-5655