Kitchen Remodeling & Custom Cabinetry in Boca Raton
Hand Crafted Kitchen Cabinets
We make our cabinets from scratch. Our state of the art cabinet shop allows us to offer a higher quality product for a fraction of the price of our competitors. Don't buy off the shelf cabinets from other installers when we can build a superior product custom matched to your new space.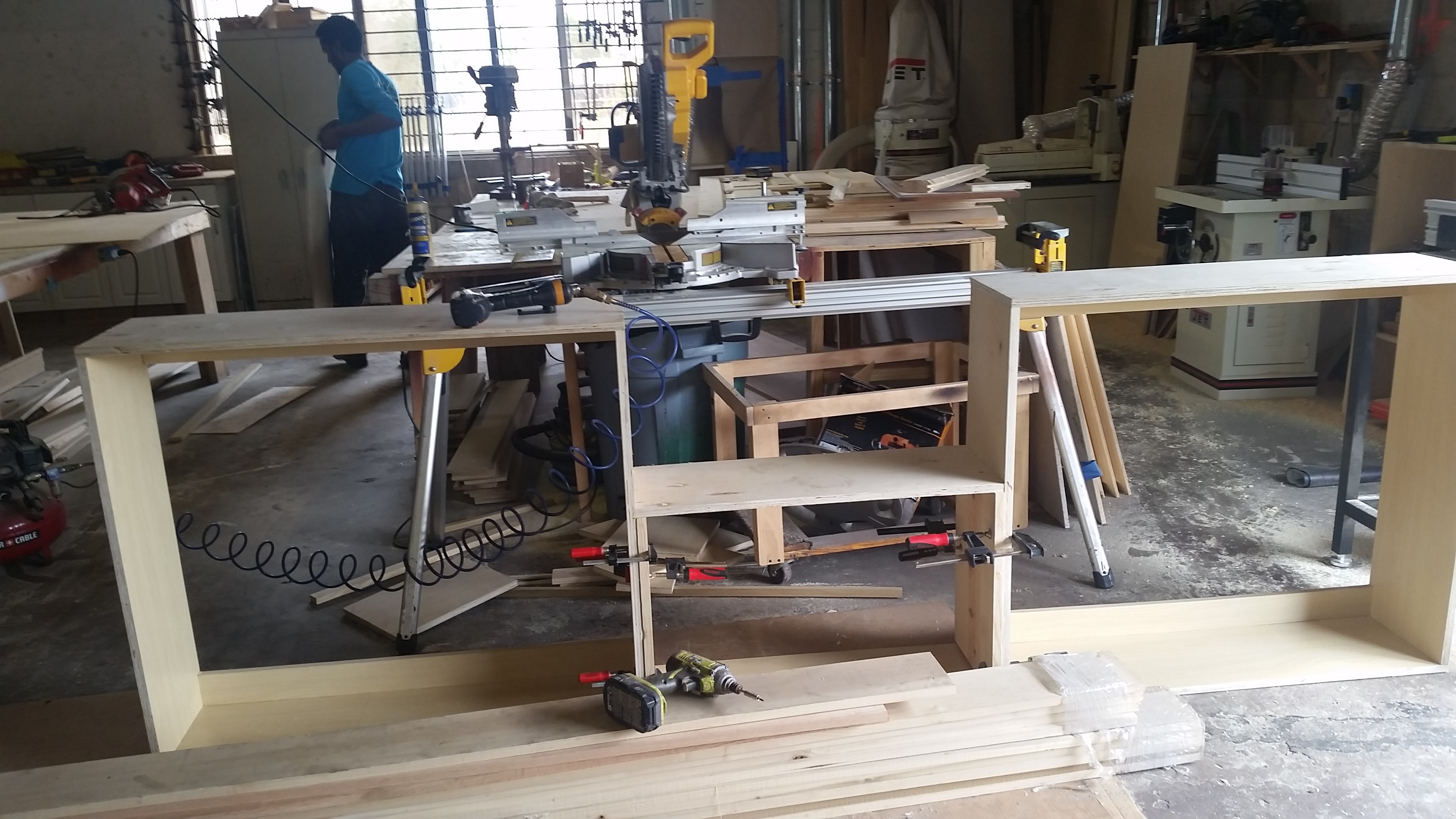 Custom Kitchen Cabinets
Our cabinets are hand crafted using kiln dried and exact planed lumber (wood plaining). Poplar and pine raised panel doors are our most popular, but oak, maple, cherry, chest nut or any other species are available.
The doors for our kitchen cabinets and bathroom vanity's are also made onsite.
Hand Crafted Wood Doors
We don't farm out the doors to a factory, we make them in house, they are stunning. We can stain or dye the doors and cabinets to any color of your choosing. once the color is applied we offer many finishes including polyurethane and lacquer. Finishes can be mat, satin, semi-gloss & gloss.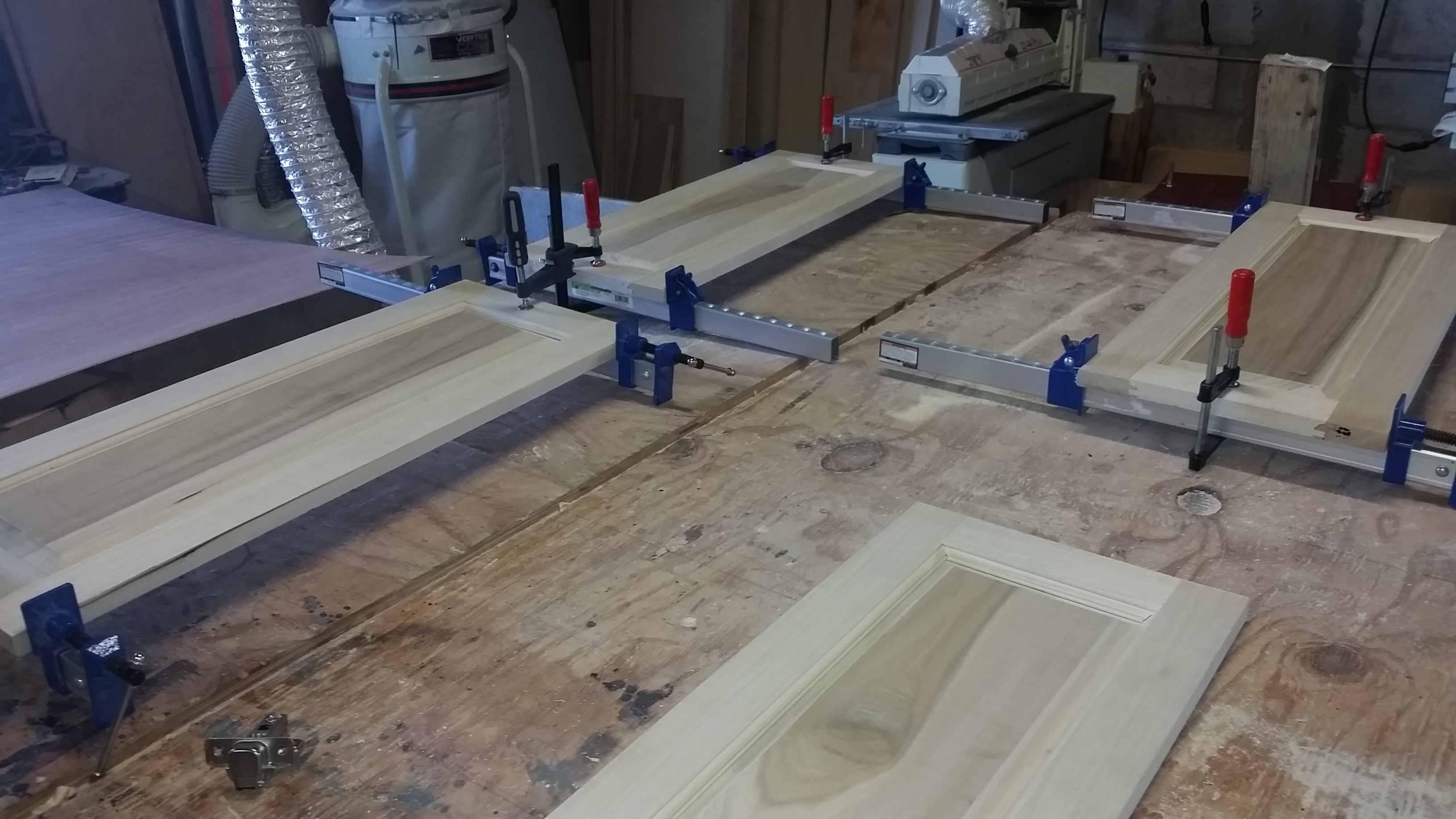 Crown Molding
We hand make crown molding that we will stain and exactly match you new kitchen cabinets. Crown adds a regal look to any new kitchen.
Kitchen Remodeling
We are licenced contractors CBC 1257846. This is really important! We are not just a cabinet shop. This means we we are authorized by your permitting authority to do this work. It also means our employees are covered by workman's compensation insurance and, we carry general liability insurance. And thirdly, we can move walls, install windows, add a skylight, move appliances and any other kitchen configuration modification that you can think of. Protect yourself, hire a licenced general contractor!
Wood Stain vs. Wood Dye
Wood Stain Finishes
We use wood stain for the majority of our new kitchen cabinets and doors. Wood stain is a solvent based emulsion that transfers pigment to the wood. We use conditioners prior to applying stain to help even the color and allow the stain to soak in to the bare wood. However, for the most part, wood stains leaves the pigment on top of the wood. We can utilize additional application to darken the color selected. We can also wipe a stained wood surface with thinner and lighten the color. The affect of adding more and more layers of stain reduces the natural wood features. That is to say, achieving darker and darker wood stain color reduces the what can be seen of the woods grain and marbling.
Wood Dye Finishes
Some customers really like the natural features of wood and don't want to hide them with color. For these customers we use wood dyes. Wood dyes are water based emulsions. We can purchase powders and mix them in water or buy premixed primary colors. We then have to mix the primary colors together in order to try and match the desired final color. Water based wood dyes are applied with a brush or a sponge to the wood surface where the water and dye are absorbed by the wood. The wood features are thereby enhanced by the wood dye and not masked.
The process of dying wood is more complex than staining, and therefor more expensive, but the end result can be astonishing.
Are you looking to remodel your kitchen? Call your Boca Raton kitchen remodeling contractors at (561) 586-5655 and ask about our kitchen remodeling services. Read our customer testimonials here to see what your neighbors are saying!