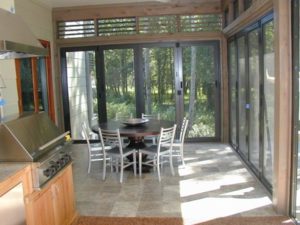 Imagine having a cup of favorite coffee or breakfast every morning in the outdoor space, while being protected from the elements. But which outdoor space that is suitable? We heard a lot about lanai, porch, patio or veranda.These terms are often considered fairly synonymous and depending on who you ask there is no difference. However, there are distinct characteristics that separate the four outdoor living spaces.
The simplest of outdoor spaces is the patio, which is characterized by a simple exterior grade flooring such as brick or paver. Porches, on the other hand, are often roofed extensions on the front or back of the house. Porches that wrap around the sides or go all the way around the house are often considered verandas. Then there is lanai. Lanai porches are characterized by their screen enclosures. Like porches, they have a roof and may have many amenities like furniture or even an outdoor kitchen but the screened partitions are its defining character. Of course, in some designs, these screens may be removable making classification even more challenging. In short, herewith the styles and characteristics of each outdoor living spaces
Patio - Basic, hardscape ground layer (i.e. brick or paver)
Porch - Roofed extension of front or back of house
Veranda - Also known as a wraparound porch, open, and roofed
Lanai- Screened-in porch or veranda, screens may be removable
Lanai porches take their name from the Hawaiian island of Lanai, of which the design is said to have originated. In fact, the lanai is a common feature on many buildings. Lanais (building with lanai) are generally considered screened-in.Screened lanais are not only beautiful but functional. If you have pets, they can enjoy the outdoor environment safely at all times.  If you have young children, there are lockable door options for their safety.
Lanai Enclosures
Do you have a lanai that rarely gets used? Glass lanai enclosures can add extra space and security while increasing the value of your home. If you have a patio or a lanai that has an existing house roof over it, Preventive Maintenance Support Servicescan build a custom window and wall system for your home offers year-round space. Our window wall/system creates indoor space out of your covered lanai but allows to still feel connected to the outdoors with nearly floor-ceiling window panels. With our custom lanai enclosures, the worries of pollen, bugs, lawn mower debris and inclement weather etc. will no longer be a concern. Customizable window heights and widths allow your design to seamlessly blend into the architecture of your home, and it will also increase the overall value of your home.
Preventive Maintenance SupportServicesoffers a variety of high quality, hurricane impact, and non-impact windows, sliding glass doors, and French/terrace doors with aluminum frames. All of our glass lanai enclosures are custom measured to fit your space.
In addition to that, Preventive Maintenance Support Services has and provides premier's screened lanai will increase livable space and provide a great playroom or a spot to relax. Your lanai can be enclosed to resist the weather and provide an extra layer of security from the elements and outsiders. In the company, skilled and experienced experts are ready to assist our valued customers to build their lanai enclosure as well as listen and
accommodate customers design suggestions, wishes and provide just the space for family's needs.  Not only will this add beauty and value to the home but it will provide a lifetime of enjoyment. A custom-designed lanai allows to enjoy the sun and outdoors while staying within a screened setting. For a safe, functional room for your entire family, this is your best option and our company is ready to help our valued customers to make it happen.