New Roofs & Re-Roofing
I vividly remember my first experiences in re-roofing over 30 years ago. It really is probably the single most difficult job on this planet. In the 1980's and 1990's it was not uncommon for buildings to have many roofs on them. Back then we could put second and even third roofs on. We did so, of course, to bring the cost down for the building owner. It also made our life much easier! But today we cannot do that. We must completely remove the old roof and start from scratch.  Its harder and more expensive but, a much better value for your money.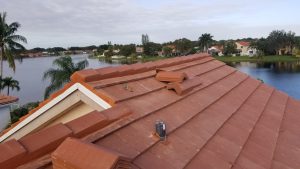 Hurricane Andrew had the biggest influence on changing our roofing practices. Prior to Andrew the building code reflected standard construction practices used and accepted over decades. It was not engineer driven in terms of the impact during high wind events.  Dade County developed testing protocols for every building envelope component in Andrews wake. Each protocol requires a mock assembly built in a wind tunnel. The assembly is subject to wind, rain and even debris. Assemblies that survive receive a Dade County "Notice of Award" (NOA) also called a Dade County Product Approval.
New Roofing Standards
The NOA's layout how to assemble the new system. It is specific to the individual component's application and quantity. It not only calls out things like the size and type of screws to use, it can also calls out the manufacturers of screws that can be used. So, flat roofing insulation is pretty standard. One inch  polyisocyanurate made by Firestone and GAF are identical, but Firestones insulation can not be used constructing a GAF roof.
Whether your roof is steep slope or flat and no mater what flavor of roof you want, the Florida Building Code and Dade County Product Approval (the NOA) have a strict set of standards that must be followed by any contractor you use.
Choosing a Contractor for your New Roof
That is good news for you but wait, it does not mean you can hire the cheapest contractor and get the same roof. The Building Inspector will come out and inspect compliance with the NOA, but only a couple times.  He will not be there all day making sure corners are not cut. Cheaper prices mean a faster finish time and that requires cutting corners. That makes sense right?
Re-Roofing Quality Control
To ensure top quality workmanship a contractor needs to have a strict supervision policy. A perfect solution to this might be a full time, non-working supervisor. That would be a guy standing on the roof all day just watching the workers. Never picking up a hammer or going to the supply house for materials.  As you can imagine, that would be terrible expensive.
Our quality assurance has proved impeccable and its FREE. We use the internet. Our procedure defines critical junctures in the work. At each stage, our crew chief is required to email pictures and videos, of the work in progress, to an email address with the jobs number. Our cloud-based application monitors the email address and downloads the pictures to a web page in real time. Our team watches the pictures on the webpage continuously. We even call and ask for pictures at random times to make sure our new roofs are perfect. But best of all, we give our customers a link to the webpage on the day we start. Our customers can watch the work progress, in real time, on their phones from anywhere. You can call in with any concern and get an answer immediately. We make our customers part of our quality assurance team.
Residential Roofing Services
If you suspect a problem with your current roof and need repair, or you think it's time to replace it altogether, call our team for help. We will assess the problem and let you know if a whole-roof replacement will be more beneficial to you in the long run. Our experts will improve the look and function of your roof while making sure you are protected from further damage. Always hire a licensed roofing contractor.
Cracked or Missing Roof Tiles
Roof tiles use nails or foam adhesive to secure them. With "foam on" systems cracked or missing tiles are not so bad. Water falling in the crack can travel down hill and no leaks may occur. Conversely, cracks and missing tiles are a real problem for "nail on" roof tiles. Water running under the tiles pass across the nails. The nails rust in time. This causes roof leaks. So, it's important to fix cracked tiles and replace missing ones. We use a special mastic to glue the cracked roof tiles. We use a similar mastic to attach replacement roof tiles instead of nails. Why recreant the problem, right? A good roofer will assist you with this.
Tile Roof Penetrations
Anything penetrating the roof tile system is a potential problem. These can be pipes, vents or even skylights. Stucco is used to seal around the penetration in the roof. The stucco cracks over time. Water the falls and travels under the tiles. The same scenario is created as stated in the paragraph above. Hire a licensed roofing contractor.
Missing or Damaged Roof Shingles
One common issue is missing or damaged shingles. This can happen in extreme weather. Or, it may happen over time as your roof ages. Our residential roofer will determine if we can replace the shingles. We can help you assess if a repair is in order or if you need to budget for a complete new roof. Trust only a licensed roofing contractor to fix your roof leak. Never use a handyman.  By definition a handyman is an unlicensed contractor. They love to cut corners and they don't like to come back and fix their mistakes. Improperly installed shingles will become loose or fall off. If the shingles are not fixed, serious damage will occur. This will lead to a costly repair work. Professional roofing contractor will help you avoid this.
Curling Roof Shingles
Damage from severe weather or long term damage will cause this. Moisture develops in attics not ventilated.  The humidity we experience in Florida can cause the roof to develop mold, decreasing its lifespan. If your shingles show natural wear, we will repair or replace them for you. A roofing company should inspect any damage, no matter how small. We will make sure that you won't have to deal with any subsequent issues, such as water spots on your ceiling.  Our roofer guaranties it.
Call now for a free estimate: (561) 586-5655.
Flat Roofs
If your roof needs work it can be hard to find the right person for the job. You want to find the best team available. But how? One big problem comes from the many terms for the person you are looking for. Do you need a roofer, roofing company, roofing contractor or handyman? To help you understand the different terms we will explain what each of the players are and their roles.
Commercial Roofing
Commercial properties must have a roof in perfect condition. It's imperative for the functionality of the building. From keeping the temperatures in your property regulated to preventing water from damaging the interior, a roof must be in good condition at all times. Preventive Maintenance Support Services Company is a professional commercial roofing contractor.
What Types of Commercial Roofing are There?
Hot Tar Commercial Roofing
Conventional hot tar roofing has been around forever. Asphalt is heated in a kettle to 550 degrees and pumped up a pipe and in to mop carts. Experienced roofers then lay a bed of asphalt with a mop and the rolled roofing is laid in to the hot asphalt. Two, three and even up to 5 layers of rolled roofing can be used. The more layers, the longer the roofing warranty. The advantage of this time tested system are the redundant layers. They are very durable and great if there will be a lot of foot traffic on the roof.
Modified Bitumen Roofing
Modified Bitumen roofing is pretty much the same as hot tar roofing with the exception of the final ply of roofing known as the roofing cap sheet. What different in this roll of commercial roofing material is that rubber from car tires is melted in with the asphalt. The adding of rubber to the asphalt "modifies" the roller roofing material. The practice was started in the 70 to help reduce the burden of large amounts of rubber tires in landfills. It turns out however, that there are the benefits.
A higher tolerance to the UV rays of the sun

A longer lasting product

More elasticity and better water proofing qualities
TPO Commercial Roofing
CPA or Copolymer Alloy commercial roofs have many different plastic modifiers and they in to a category known and Single Ply Roofing Systems. The two major flavors of single ply roofing today are PVC and TPO. TPO is the most common. These roofing system are termed Single Ply because only one layer is used to construct the roofing system. The edges or "laps" are heat welded with hot air. Screws are places in the laps first and hold down the roofing system. These roofing systems are generally less expensive than conventional roofs and are not affected by water standing on them for long periods of time.
Call now for a free estimate: (561) 586-5655.
Metal Roofing Systems
PMSS offers three metal systems designed to provide superior wind force protection and a long service life. Metal roofs perform superior to roof tile and shingles in hurricanes.  They also last much longer. A new metal roof is pretty much the last roof your home will need. Our metal roofing panels are used in a number of educational, civic, agricultural, residential, retail, industrial, healthcare and recreational applications. We will find the perfect solution for your project, and PMSS goes the extra step to provide metal roofing products that meets or exceeds building code.
Metal roofing offers many benefits, including energy efficiency, a long-life expectancy of over 60 years, almost zero maintenance requirements, and highest hurricane resistance. The longevity, sustainability, and durability of metal roofs make them a cost-efficient investment for your building. With options ranging for thicker metal panels, our metal roof panels offering options such as single skin, insulated, standing seam, exposed fastener and concealed fastener. Premium Kynar protective coating options and galvanized steel add to our metal roofing's impressive strength.