PMSS To Install New Rain Gutter System At The West Palm Beach Fisher House
(April 13, 2016) Preventive Maintenance Support Services (PMSS) will start the new rain gutter system installation for the West Palm Beach Fisher House. The construction company is known for its involvement with the organizations that support the American Veterans, as they provide charitable construction related work for these groups.
Ryan Hayes, a veteran of the Army's 101st Airborne Division, is the project manager of the new rain gutter system installation. Preventive Maintenance Support Services (PMSS) is a company that offers excellent services for home or commercial property. It specializes in kitchen and bathroom remodeling, and building and parking lot repairs. Its price is competitive, which is why customers get the quality service for the amount they pay.
Fixing and installing a new rain gutter is essential to ensure the safety of a house. A rain gutter, also known as a rain catcher, is a narrow canal that forms the component of the roof system responsible for the collection and the diversion of rainwater from the roof edge. The purpose of a rain gutter is for the protection of the property's overall foundation by getting rid of the water away from the base. Gutters are also important when reducing erosion, as well as the prevention of leaks in crawlspaces and basements. Installing a new rain gutter helps to maintain the paint of the building by reducing the water exposure. Some homeowners also find it handy to collect rainwater, as it can be used to other household chores.
PMSS also provides quality work, competitive pricing and amazing service for customers. These factors have made them among the most trusted and most reliable construction companies today. The new gutter installation project at the Fisher House is ensured to be suitable for the veterans. The first priority of PMSS is to be beyond the expectations of their customers, as well as the anticipation of their needs and wants. They also have a spectacular follow-through in their service.
The company is a "family", which makes it easier for them to get in touch with their customers, and know their needs on a more personal and easier approach. In addition, PMSS said that they value Customers First and Get It Done policies more than anything. This makes buying from them a smart choice in terms of property improvement.  The company stated that potential customers can give them a call to help in selecting the right services. They even let the customers pick the time and the date of their appointment at their most convenient time.
In particular, the installation of a new rain gutter system at the West Palm Beach Veterans Administration's medical facility will provide a new support for those who are residing in the building. PMSS is known to offer high quality services, which is why the new gutter system will last for many years.
Summary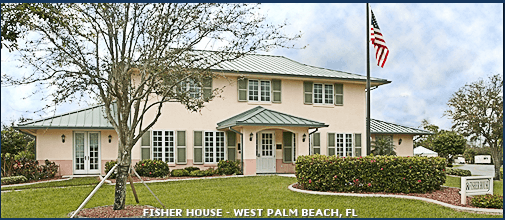 Event
​
West Palm Beach Fisher House to receive new rain gutter system
Summary
New gutter system for West Palm Beach Fisher House installed by Preventive Maintenance Support Services
Location
​
West Palm Beach Fisher House

,

7305 N Military Trail

,

West Palm Beach Florida 33410

,

South Florida
Starting on
Ending on
URL