Bay Windows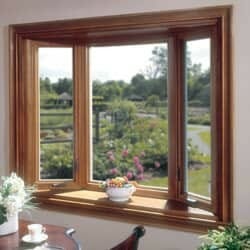 Bay windows are one of the more complicated window styles to install. But their impact is well worth it. This type of window protrudes from the house. They let
lots of light. The further a bay window protrudes from the house, the more dramatic the effect. Rooms appear to really open up. You can choose among units that protrude at 45-, 30-, or 10-degree angles. Individual windows may be picture, double-hung, or casement.
Bay Window Instillation
Bay windows install like a standard flanged windows. there can be be differences. Some units require support from above using cables. Attaching to framing members in the eaves or the wall above. Some require support from below using brackets or a knee wall. Some need both types of support. A smaller bay window may not need this type of support. And installed much like a standard flanged window.
Plan how you will finish the top and bottom of the bay window. A custom roof and soffit with knee braces look good. The bottom is usually easy to trim out. Or, you may choose to build a wall down to the ground. In these the roof and skirt are built on the ground and then installed.
Expect to spend a day or two installing and insulating the window. Hire a licensed contractor with good carpentry skills.