How To Pick The Right Roofer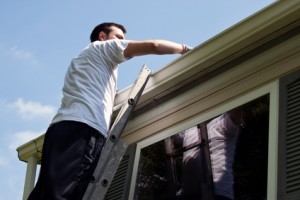 If you discover that you need a new roof for your home or require roof repair, you'll want to make sure you're choosing the right professional for the job. Here are a few tip that will make your search for a quality roofer a little easier.
Check for Insurance: One of the most important aspects of finding a roofer to work on your home is ensuring that the roofer is insured. If the contractor doesn't work full time, he/she may not have adequate insurance coverage. You may also find that roofers ho are working for a new company may not have insurance yet. Always ask to see the contractor's insurance certificate before you agree to have any work done to your home to make sure you're covered if anything goes wrong during the job. This is important for protection against damage that your roof sustains after the work is completed.
Ask About the Workmanship Warranty: Go over the warranty for the roofing contractor before you agree that the professional can do work on your home. The warranty will let you know whether the roofer completes their work on time, and will indicate how the professional will respond to addition questions or concerns you may have after the work is completed. The detail of the warranty will also give you an accurate idea of the company's trustworthiness. If you're not sure about some of the terms of the warranty, talk it over with an attorney before having repairs done on your roof.
Get Referrals: If you know a friend or family member ho has recently had roof work done, ask them if they would recommend the roofing company that did the repairs. Chance are you'll be able to trust these referrals, as your relative has probably already mentioned whether they are satisfied with the work. This can make you feel more comfortable with the roofer, reducing the stress that can sometimes come with having home repairs done.
Are you looking for a reliable roofer in Boca Raton? Call us at (561) 586-5655 and schedule a free estimate appointment today!