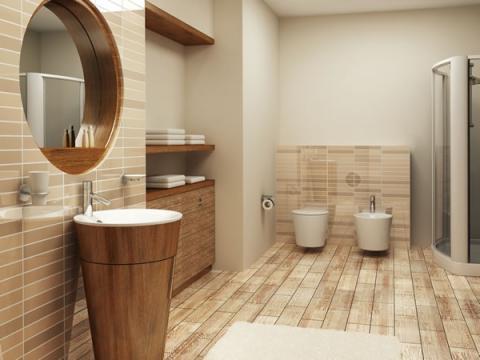 Bathroom Remodeling Cost 5' x' 8' standard $6500.00
Over the time, our bathroom needs to be upgraded, either this is due to deteriorating condition of the bathroom and simply the latest design makes more sense. One vital step that needs to do is make the budget for this project.  Budgeting for a remodeling project can be a real test. This is will also largely depend on the design, available money in the bank and affordability.  It is highly advisable to approach remodeling project such as bathroom remodeling with a realistic attitude.
There are two ways that you can do the budgeting, either through materials or by needs. On the other side or the good news is there is the design options are wide and it can fulfill remodeling project on any a budget because manufacturers offer a wide range of fixtures and finishes that can accomplish bathroom design goals. Thus, first thing first is to begin by researching all of the options available on the market today—flip through magazines, refer to our handy slideshows, check out local home improvement trade shows, talk to professionals at bathroom showrooms. Dream up the wish list, then revise that into a reality list with price tags.
In developing the budget for bathroom remodeling, information feed needed such as the price of labor and percentage of budget should be dedicated toward features like lighting, flooring, and appliances. The one and most common mistake that easily is can be avoided is by blowing the budget on intricate tile work and compromising on the shower or sink. It is worth to note that, in the bathroom, the fixtures are number 1 priority, whereas space has to function first. If you do not have any idea, herewith the simple estimation from The National Kitchen & Bath Association (NKBA), and they break down bathroom remodeling costs as follows:
Design fees: 4%
Installation: 20%
Fixtures: 15%
Cabinetry and hardware: 16%
Countertops: 7%
Lighting and ventilation: 5%
Flooring: 9%
Doors and windows: 4%
Walls and ceilings: 5%
Faucets and plumbing: 14%
Other: 1%
It is worth to remember that, these figures are guidelines, not rules, and each project is different. For example, it is generally suggested that figuring 40 percent of the budget for labor and 25 percent for cabinets and countertops, and 10 percent for lighting. In addition to that, it is needed to sets aside 20 percent of a client's budget for plumbing fixtures.
Another completed project, it has plumbing fixtures were about 10 percent of the project, countertops were 10 percent, tile was 10 percent, cabinetry was 15 percent and the rest was labor (electrician, plumber, general contractor, etc.) Thus, as previously mentioned, it is really depending on each project. If the estimate bathroom remodeling by bathroom size, for5' x' 8' the standard cost is $6500.00
As working on a budget with the designer or general contractor, there is no harm to ask the firm to supply a breakdown. There are variables depending on the existing bathroom, the scope of the project (either complete remodel or facelift project) and the local economy.