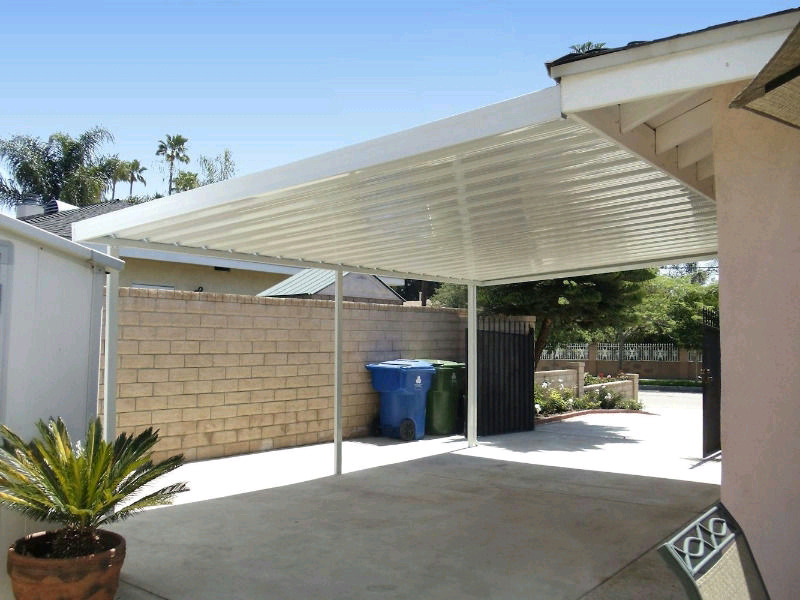 A carport can protect your car weather and create a covered work area. One of the materials that can be used for a carport is using metal.
Many metal carports are a free-standing structure used to shelter a vehicle be it a car, boat, motorcycle, or whatever will fit. In hot climates, it can protect it from the sunlight, keep the interior a few degrees cooler, and extend the life of the interior (and exterior if you have a Landau or convertible top). In cold climates, it provides shelter from rain and light snowfall.
Metal carports are good for sheltering your car or other vehicles from a degree of exposure to the elements (mostly sunlight), but how do they compare to building a regular garage? They cost about half as much to build as a regular garage. They don't have as many cities or fire regulations since they aren't considered an enclosed or livable space and small ones can be built in less than a day while larger ones may take a weekend. An additional advantage is it has plenty of natural ventilation
However, as the metal carports sides are usually open, so your car won't be protected from wind, strong rains, snow, or other storm effects. For sure, these won't keep animals out and don't provide any added security. In addition, it can't be converted into a livable room if your family expands.
Aluminum is one of material known for carports.  Having aluminum carports have advantages, such as longer durability and aluminum is considered as metals are very low maintenance. In addition to that, aluminum is highly rust resistant and has a high oxidation tolerance. However, if oxidation occurs, aluminum will get a chalky, white appearance over time and can even develop pitting.
As mentioned before that metal carports are amazingly affordable, often costing less than $1,000.00 installed. In general, for 200 square feet of material from aluminum, the cost is generally the same. Many sellers offer free delivery within a certain range, and some include installation.  Often, these are built into the cost. Installing it yourself won't save you much money, only about 5% of the cost. A $595.00 carport would only save you about $29.75.
Because of the lengths and weights of some of the pieces, sellers almost always provide delivery. Delivery is often done with a heavy-duty truck and an extended trailer. By providing the delivery, they, and you can be sure that the kit was loaded/secured correctly and that nothing gets damaged on the way to your home. It's usually free within a certain area (or included in the quote), but the outer edge of the service area may incur a small charge. Also, a small-dollar order (often below $595.00) may incur a delivery charge, usually about $50.00. Be sure to ask up front about this.
Carports come in many different sizes. Some are large enough for RVs, some are built to shelter two cars, and some are for sheltering small vehicles like ATVs or motorcycles. Here are some examples of sizes and prices (delivered and installed):
21'L x 12'W x 6'H - $700.00 to $800.00 (about one mid-sized car)
21'L x 24'W x 6'H - $1,295.00 (about two mid-sized cars)
41'L x 20'W x 12'H - $2,815.00 (about one large RV)
10'L x 7'W x 6'H - $535.00 (ATV or motorcycle).
Above are the approximate price, however, there is possibility of different price for installation due to factors as follows.
Roof Types. There are three roof types of metal carports: regular, boxed eave, and vertical. The regular roof type has rounded eaves that come down the side a little bit. A boxed eave is squared off, providing a small overhang on the sides, with lines running horizontally from front to back. A vertical roof has lines that run vertically from the peak to the walls and is recommended for excellent strength and runoff. The cost differences between the roofs can run from $100.00 to $200.00.
Gabling. Gabling covers the end caps at the roof. They can add $150.00 per end, or you can have one end completely walled. This option will add $300.00 to $500.00.
Walls. Walls are often available in 3-foot increments and can add $300.00 to $600.00 to your final cost. They do provide security and shelter and give your carport an enclosed look.
Color. Companies may offer a line of colors. This ordinarily will not cost you any extra. If you must have a color that is not provided, you may have to paint it yourself or hire a professional painter.