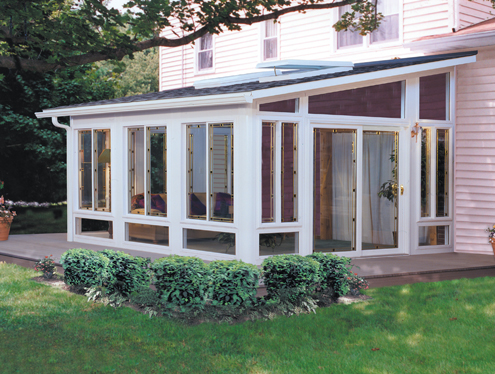 Spacious home is desired by many families. Having spacious homes enables to arrange the house so many ways and having plenty space to enjoy. There are many ways and techniques to make the house feel more spacious.  One of the most obvious ways to make the house more spacious is build additions or enclosures.
Additions are quite clear that it is an additional part of the house, whereas enclosures, is basically the shield from the outside. When you want to make an extension of the house, the first decision you need to make is: what kind of enclosure do you want? Do you want to utilize the existing space or do you to add a new one? There are three varieties to answer the question:
Full enclosure: This is a completely built structure, either onto your home or separate from it. Essential part of the house namely, foundation, walls, windows, doors, and roof are built custom and from scratch. If you add it onto your home, the contractor will try and have it match the rest of the home. There might also be electrical and plumbing elements added.
Partial enclosure: This is usually when you have a patio space that's not enclosed. You can usually add screens to enclose the space without doing more extensive work. You might also add doors, windows or a different roof.
Sunroom: Oftentimes, these are pre-fabricated additions. There will be climate controls to keep it from getting mildew or mold. Someone builds it off-site and then brings it to install onto your home. You can have it customized however you would like.
Sunrooms and Enclosures
Some factors you need to keep in mind when choosing between these three options are roofing materials, whether you'll need a permit, walls to add/replace and windows to add on.
While you won't have to worry about most of these with a partial enclosure, they are major considerations with a full enclosure or a sunroom. This is especially true if you will have to knock down walls for the addition to your home.
Additions are a little bit different. A room addition may suit your situation better and can give you a little more privacy, as you may need it if you are adding a bedroom space. With a room addition, you can add plumbing which is useful if you are looking to add bathrooms or kitchens.
Both a sunroom and a construction style addition add useable space but with slightly different functions and style. A sunroom, which is mainly glass, will allow you to enjoy the outdoors and nature to its fullest! Glass connects you with the outdoors comfortably--rain and inclement weather become exciting events!  As well, sunrooms have doors that lead to the outside, typically to the backyard.
A room addition is meant to be another room on your house. As we have touched on, this type of room is good for a room that needs plumbing, privacy and doesn't need to lead outside.  A sunroom is a specialty room addition that is designed for leisure activities and various functions. Constructed mostly of glass, this type of addition is great for enjoying the outside inside, entertaining and relaxing with family and friends.  For most homeowners, the main advantage of a sunroom is to be able to enjoy the outdoors without the hassle of contending with the weather elements. Because they are screened in, you can also keep insects out while still allowing the fresh air into the room. Adding a sunroom also creates an extra room in your home that can be used to suit a variety of purposes.
Do not get overwhelmed, because our company Preventive Maintenance Support Services can assist you to provide the advice in term of planning and construction. Our company committed to serving our valued customers to get the best result for obtaining a spacious house.