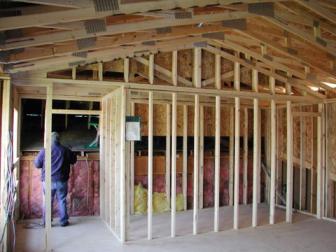 This is a major construction project that involves creating an additional building structure and integrating it with the rest of the home. No matter whether you build out or up, it is advisable to consult with an architect before getting started to make sure that the design looks cohesive with the rest of your home, which will help enhance the resale value. In addition to that, hire a structural engineer to make sure the plans are safe and sound, last but not least hire a general contractor or a remodeling company.
There are at least 2 ways to make room addition, namely building put and building up.
Building out typically involves adding a room at ground level, which is one of the most popular types of additions. These options increase the footprint of your home by extending the house's perimeter outward, which offers minimal disruption to the rest of the home. Potential drawbacks of building out include the cost of having to pour a new foundation, the loss of the yard or property space and the possibility that you may need to get a zoning variance depending on local regulations.
Building up is a great option if you want to expand your living space without increasing the footprint of your home. For this type of addition, you add a room to the second story, or you could add an entire second story onto a one-story home. Even though your contractor won't need to create a new foundation, he may need to strengthen the existing foundation to support the extra weight. On the downside, you need to check your town's rules to make sure you're not limited in the height of your home. Additionally, you'll need to add a staircase, which typically uses up 80 to 120 square feet of living space.
New Room Addition
Preventive maintenance support services are ready to assist our valued customers to get through the room addition. Our company has a skilled team in dealing with planning and constructing room additions.
A room addition involves all of the same things that you find in new home construction: foundation, footers, framing, zoning, permitting, HVAC, flooring, plumbing, electrical, new windows, etc. The list goes on and on. Even if you are building a great room or living room (i.e., a room addition without services such as plumbing), you still have other services that you cannot avoid (electrical, heating, cooling, and more).
Thus, a new room addition is among the most expensive home projects, additions sometimes return less on your investment than remodels. This project requires a considerable amount of budget to be set aside. If you're significantly adding to the square footage of your home or adding important types of rooms, such as bedrooms and bathrooms, your investment may pay off considerably. If you really care about the resale value of the project, consult to a realtor an appraiser.  Not all room additions give back adequate resale value. Consult to the reliable realtor, you can start with a realtor who sold the home to you, the realtor will be more than happy to tell you how this added square footage (and the type of square footage you're thinking of) will benefit you in the long run. If you consider to finally executed the project, our company is ready to assist our valued customers to get through the process.