Motorized Retractable Awnings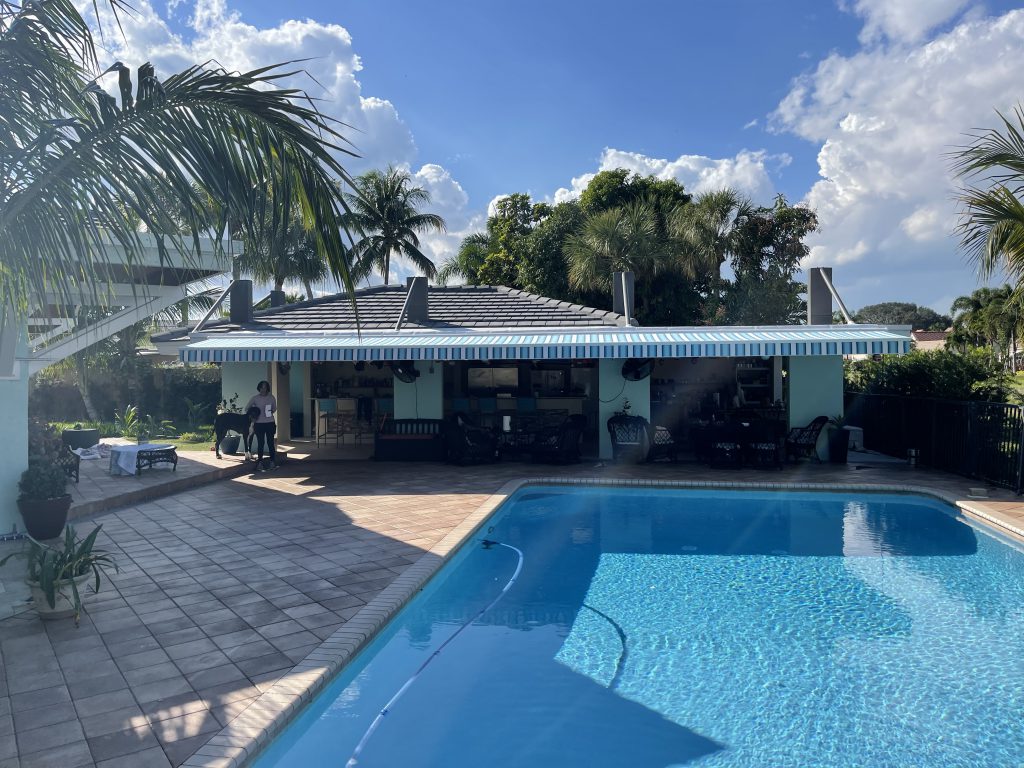 Awnings are the least expensive alternative for turning outdoor space in to comfortable and usable space here in South Florida. Awnings give the needed shade to keep out of the sun and some well placed fans can help keep it cool. If you think your interested in getting a new awning, consider the following 10 things.
Material the awning is made of
Your new awning needs to be constructed of durable materials that will not rust or be deteriorated by the Sun. For this reason, steel frames are not a good choice but aluminum is. Aluminum is highly durable and does not rust. The canopy need to be ultra violet and moisture resistant for durability and long lasting. Lighter colors are a good choice preventing heat from permeating through.
Sun Protection awning provide
The angle of an awning is referred to as its projection and is very important. If your awnings is going to face South a steeper projection is desirable to keep more sun out. It may be more desirable for a Northern facing awning to have less steep projection allowing for more head space.
Aesthetics for awnings
Aesthetic concerns will vary from person to person. Consider matching the canopy color to that of your house or pool. A brick paver or wood floor might look nice. Maybe even some new landscaping placed around your new outdoor space is desirable.
Mobility for Awnings
It's not likely you're going to move an awning around your yard, but some are fixed while others are retractable. Motorized retractable awnings are especially convenient as you can skip hand cranking for what feels like minutes. Retractable awnings are more wind resistant and some even come with an automatic wind gust feature automatically closing if wind gust above a certain speed.
Where to install your new awning?
Most awnings are attached to a wall on a home, but a stand-alone wall or columns can be used as well. I've even installed awnings on fences.
Privacy for your Awning
Sometimes a privacy fence is in order so your neighbors aren't staring at you while you eat.  Or you have an exposure that lets too much light in. either way, A privacy wall or new hedge may be on order.
Awnings seasons of use
You will use your awning pretty much year-round in the Boca Raton Florida area, except the hot summers days perhaps.
Cost for an Awning
Motorized retractable awnings are a little more expensive than manual, but both are super affordable. Keep in mind that motorized awnings require an electric outlet so you may have to plans and have one installed.
Size of Awnings
Motorized awnings came as little as a few feet to as large as 40'. It's always a good idea to go bigger. You cant really change your mind later so bigger is always better.
Complex Awning structures
Wall mounts are straight forward but if your building a new wall or using columns it's a good idea to find a design professional to draw a set of plans. In the case of a privacy wall you will need a large enough footing to make sure the wall doesn't fall down. The same goes for columns.