Garage Conversion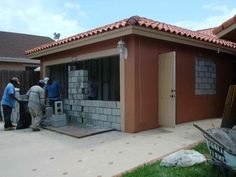 Convert your Garage into Living Space
Are you looking to enlarge your home without spending a fortune for a full-scale addition? Converting your garage into living space typically adds about 600 square feet (assuming it's a two-car garage) at a fraction of the cost for a new addition.
What Does It Involve?
A garage conversion is not a job to tackle on the cheap. Attention to detail and good planning will make sure the finished product compliments the entire home and doesn't look like a cheap conversion. Furthermore, a quality conversion may take a few months and include:
·
Reinforcing the foundation where the new walls will reside.
Raising the floor height to match the finish floor high of the home.
Fully insulating walls and ceiling.
Adding heating and cooling by tying into the house's main a/c system or adding an independent ductless mini-split system.
Adding an electrical service upgrade to accommodate the larger load were there was none.
Replacing garage doors with fully insulated stud walls or concrete block.
Adding windows and doors.
Completing the exterior walls to compliment and match the rest of the home.
Do I have to raise the floor in a garage conversion?
A garage conversion is not a new addition. Your simply changing the use for an existing space. It's similar to converting a covered patio in to a sunroom, right? Our company does a lot of these conversions and we have to consider what our customer wants for the new space and what we need to permit it. You do not have to raise the floor if there is an impact resistant door in to your house. So, you can install your walls to enclose the space and avoid raising the floor, but in doing so you will not be able to permit an A/C unit. Air-conditioned spaces my be the same height as the home finished floor.