Retrofitting Hurricane Straps
If the value of your home is more than $300,000.00, you may be required to upgrade the roof systems attachment to the home if the construction does not meet the new wind requirements. This is mandated if you are re-roofing or renewing your insurance. You probably already know that if your reading this. The required value of the improvement is 15% of the cost of the new roof.
We are certified Roofing and Build Contractors and we are licensed and insured to help you meet the requirement for hurricane straps – call now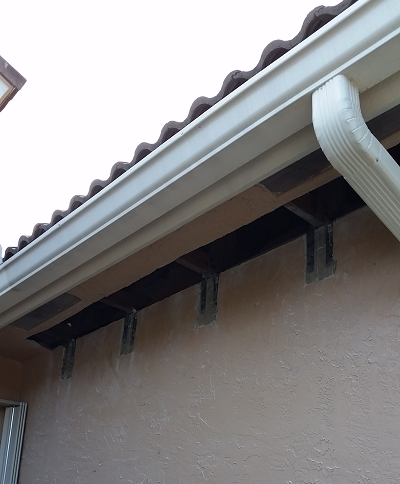 There are three elements that can be improved to strengthen the roof.
Gable end bracing

Connection of the roof truss system with either single or double twist straps
Toe nailed truss systems do not qualify and must be upgraded
Single or double twist strap embedded in concrete can earn credits to reduce the insurance premiums. If you have a single twist strap embedded in concrete, you can upgrade and earn additional credits.
See image A for improper installation of single straps
Image B be shows proper installation of single twisted straps.
Image C shows proper installation of double twisted straps.
Your property is the most important investment you'll ever make; therefore, you need a company that has been making property owners happy since 1994. PMSS reputation for quality work, fantastic pricing, and excellent customer service speaks for itself. Upgrading your roof to wall connections is less costly than you might think and will pay for itself in lower insurance premiums.
At Preventive Maintenance Support Services Company, we will ensure that the connections between the roof and wall framing of your building meets the Florida building codes. We will ensure that the connections that join rafters to the top of the wall plate are well inspected and reinforced by adding nails to the existing hardware.
We understand that your building can only be stronger if it acts as a unit and not as a collection of isolated components which can be picked off one after the other by wind. Thus, we will ensure that your roof's critical corner sections are reinforced so as to improve its structure.
In line with high wind construction guidelines, we will ensure that every truss or rafter is securely anchored with the use of a strap.
The wind uplift forces on your building is greatly felt at the ends and outside corners of the roof. These forces are higher for gable ends than hip roof ends. Hence, we will ensure that we pay attention to areas that are 6-feet to –feet of nearest outside corners (i.e. areas where the trusses join with the exterior wall) since these areas are the most crucial areas for retrofitting roof-to-wall connections.
We understand that retrofitting roof-to-wall connections at gable ends are more useful than retrofitting roof-to-wall connections at hip roof ends. This, however, does not mean that we won't retrofit your roof-to-wall connections in hip roof ends.
Our first priority is to go above and beyond our customers' expectations, anticipate their wants and needs, and follow through with spectacular service. We consider ourselves a family at PMSS. Our "Customers First" and "Get It Done" philosophies makes buying from us the smartest choice for property improvement.
Call us today and we will help you select the right products, install them with our factory-trained experts, and save you a boatload of cash! PMSS, offering the highest quality of replacement windows, roofing, building, remodeling, air-conditioning, will save you money year-round. We let you pick the time and date of your appointment to be convenient to your schedule.
Once you have PMSS work for you, we are forever at your service. In the unlikely event that anything goes wrong, we'll fix it right away, making sure that one of your most important investments maintains the PMSS Standard of Excellence.
We assure you that our service will exceed your expectations. Call your licensed repair experts at (561) 586-5655 for free estimates and discounts on your first repair!