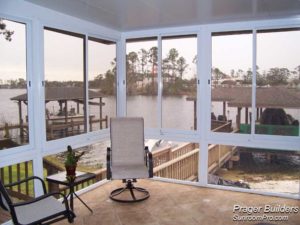 Each patio room, conservatory, and sunroomdesign come in a variety of sizes, roof and frame finishes, door choices and glass packages. This kind of enclosures or areas that are sealed off with an artificial or natural barrier, requires the window in order to provide undisturbed scenery. In the Preventive Maintenance Support Services Company, building this kind of enclosures is one of the company expertise.Not only that, Preventive Maintenance Support Services Company are experts at planning and constructing additions and enclosures for homes in South Florida. The many kinds of enclosures, like back porch patios, lanais, patio enclosures and sunrooms can add great benefit to your home or commercial building.
One of the most common materials for window enclosure is acrylic. In fact, acrylic is one of the most common materials for the windows and our company have used this material for various enclosure project.
The fact that acrylic is commonly used materials and an acrylic window can keep the space a comfortable temperature. The acrylic windows utilize the same principle as a thermos, by creating dead air space it separates the outside temperature from the inside. No matter what the outside temperature, by having the acrylic windows installed the property owners can rest easy knowing that their properties are protected from the elements.
Acrylic Window
Acrylic windows are less dense it also means they weigh less than glass windows. The density of the acrylic window makes them cheaper to manufacture, transport and takes less time and manpower to install. The savings are generally passed on to the consumer, making acrylic sunroom windows the more affordable alternative to glass sunroom windows.
One of the most important decisions to make when planning to build enclosure is the type of windows to install in the sunroom or conservatory. When deciding on the type of window, firstly it's important to keep in mind type of climate in the areas. Then another consideration for deciding the materials for the window considers these the cost, strength, durability, clarity, and insulation.
There is no need to feel overwhelmed, atPreventive Maintenance Support Services, we offer a free design consultation to help our valued customers choose the sunroom windows that will be a perfect match and suitable for your budget and your home. In addition to that, apart from the planning, our company can assist further to install the acrylic window. In our company, our team is skilled and experience in the dealing with enclosures.
In general, the cost is something we all deal with especially when it comes to choosing windows for a new sunroom. Acrylic windows are more affordable and cost less than glass windows. The cost of an acrylic window in most cases is lower in comparison to an equivalent size glass window. One reason acrylic windows are less expensive is that glass is thicker and weighs more.
Even if you have an odd size frame an acrylic window, it can still work for you. The advantages of the acrylic windows, unlike glass which can get cumbersome and time consuming to work with. Our experts in the Preventive Maintenance Support Services can assist to adjust and install acrylic in various different form and design. In addition to that, acrylic windows are easy most applications can make using one sheet which will shorten the time it takes to install. No matter what size or shape of the existing frame, there is an acrylic window that will fit. Since all of our installations will be custom made it will fit perfectly onto your window's frame with easy. So, do not hesitate to contact us at Preventive Maintenance Support Services Company to assist you in realizing your dream having wonderful enclosure space.