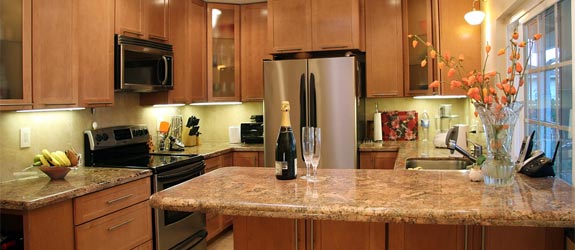 If you're looking for a home improvement project that will give you the best return on your investment, increase your square footage and add to the overall value of your home, then look no further than a picture-perfect kitchen addition.
Generally, a kitchen addition can be anything from a basic extension for a kitchen island or as complex as a adding a new pantry, breakfast nook, and butler's pantry. The addition of the kitchen it can be in form of Bumpout, add-on, micro-addition. These three types of approach can be still considered as a type of addition.
In order to make a new kitchen addition, whenever you remove a load bearing wall, as well as all exterior walls, are load bearing. In this case, you need to duplicate its function in another way.  One typical alternative is to replace the wall with a laminated veneer lumber (LVL), beam. The 6-8-foot width is especially encouraging.  When you get into these very long spans (say, the entire width of a kitchen) that becomes a major and expensive undertaking. Because the new space is so small, you will probably not have to add extra heating or cooling capacity.
In adding space of the kitchen, still, it's like a mini-house you're building. The basic structure such as foundation footings, siding, electrical, shingles, perhaps a window, so what need to remember that due to these, it drives up the cost, too.Bumpouts are oddities that do not often get built, so pricing is difficult to determine.  It is better to consult with the reliable company in this matter so you can get a full understanding.
Kitchen Addition Layout
The first crucial step is knowing what kind of kitchen addition layout that you want and need, and put it in the blueprint. It is advisable to research as many different designs and kitchen addition plans as possible before committing to one specific kitchen addition layout. Using a CAD blueprint program can help you to visualize what your kitchen addition might look like and will allow you to mix and match design options on paper before actually beginning the project.
Another important feature of the kitchen is cabinets Most new kitchen additions get some form of cabinetry installed. When choosing a cabinet style for your new kitchen, you'll need to know what materials will be used for the cabinets. All-wood cabinets have a long lifespan, a great look and provide a huge return on the initial investment, yet they are more expensive than conventionally engineered wood cabinets. Also be sure to ask for multiple design options when choosing a cabinet layout. This way, you can be sure you get the best kitchen cabinet layout for your kitchen addition before you commit to a contract.
If you then decided to execute the kitchen addition, no need to worry about all of the hassles of preparing the blueprint and construction because Preventive Maintenance Support Services is ready to assist our valued customer to make your kitchen addition as you imagine. You can be sure you're going to get the perfect kitchen addition for your home.